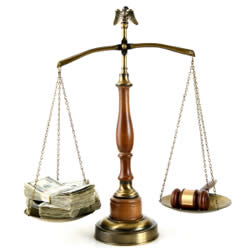 I feel my employer has treated me badly in a number of respects. They have changed my hours, made me move to a new base and I feel I have lost out on a promotion because I am over 60. I have decided to take them to an Employment Tribunal but have heard there is a cost to this now. Could you clarify for me?
UPDATE: Fees for those bringing employment tribunal claims have been ruled unlawful. In July 2017  the Supreme Court ruled the government was acting unlawfully and unconstitutionally when it introduced the fees referred to below. If you have incurred any such fees, then the government has made a commitment to reimburse all fees. You can apply for a refund of Employment Tribunal fees at the Gov.UK website.
(Article Updated July 2017)
From 29th July 2013, individuals who wish to make a claim to an Employment Tribunal are subject to a fee dependent on the type of claim they want to make. In fact you must pay a fee when you make your claim (the issue fee), and at a later stage if a hearing is necessary (a hearing fee).
The Issue Fee
There are basically two types of issue claim:
'Type A' claims tend to be more straightforward for the tribunal to deal with, and so have lower fees

'Type B' claims which  involve more complicated issues for the tribunal to decide, so the fee you pay will be higher
The most common claim types are outlined in the table at the end of the article.
As of January 2014, if you make a type A claim you will need to pay an issue fee of £160, and for a type B claim £250. If you have more than one type of claim  covering both A and B, then you will need to pay the higher type B fee.
The Hearing Fee
If your claim progresses to a Hearing – which it will (assuming it is a valid claim):
For type A claims the hearing fee is £230
For type B claims the hearing fee is £950
For applications from more than one individual on the same submission form, there is a commensurate increase in the fees of between 2 and 6 times depending on the number of individuals involved.
Will you get your fees back?
If you win your case, the Tribunal will generally order your employer (the respondent) to return your fees in addition to any other award it makes (although this is at the discretion of the Tribunal). However if you lose, it has no powers to order that your fees be repaid. Also if you lose, you may be asked to pay any fees incurred by your employer.
What if you can't afford the fees?
You might not have to pay a tribunal fee because of your financial situation or if paying a fee would cause you hardship.
A system of fee waivers and reductions, known as the remission system, is available. The fee remission system allows access to court and tribunal services free of charge (a full remission) or at a reduced rate (a partial remission). Details here.
The fee remission system is based on two different tests. You will have to pass both tests in order to be eligible for a fee remission.
The disposable capital test:
This test will decide whether you are eligible for a remission based on an assessment of your household disposable capital (e.g., your savings and investments). For example at January 2014 you would not be eligible for any remission if you have  disposable capital of £3000 if your Tribunal fees are up to £1000. There is a sliding scale of fees and disposable income – details available in the link above. If you have disposable capital equal to or more than of the relevant threshold you will not be eligible for a fee remission and will be required to pay the fee in full.
If you pass the disposable capital test, then you may be eligible for a full or part remission based on assessment of your gross monthly income.
The gross monthly income test:
you will receive full remission of your tribunal fees if you are currently on certain means tested benefits (listed in the above link)

you may receive a full or partial remission based on gross monthly income before tax and other deductions. You will need to add up all the income you receive in a month. If this figure is below the thresholds shown in the above link, you will receive a full remission. You will receive a partial remission if your income is equal to or over these thresholds, but below the gross monthly income cap shown. So for example at January 2014, if your total joint income (before deductions such as tax) with your partner (and you have 2 children) is less than £1735 per month you would receive a full remission. If it is over £5735 you would not receive any remission. If it is between these 2 figures you would receive a partial remission.
Conclusion
Here at www.human-resource-solutions we don't approve of the requirement for individuals to pay a fee for an Employment Tribunal – this is a retrograde step in the evolution of fair employment rights for individuals. However we do our work with employers and we regularly see how the system has been abused in the past by disenfranchised staff with no real case but with nothing to lose by bringing forward and ET claim.
In relation to the question asked, we would recommend that you think carefully about making a claim, and perhaps talk over the likelihood of success with a lawyer or your trade union. Given the nature of your claim it is likely to fall into the type B claim category so will cost you around £1200 to bring to a hearing if you are not eligible for any fee reduction. That's a lot to lose if your claim is thrown out!
N.B. there is currently a judicial review under way with regards to the legality of these fees.
---
The most common claim types: