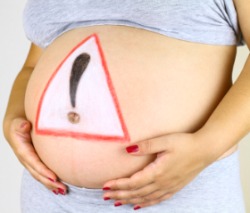 As a company we are going through a re structuring process with change of hours and possible redundancies. One of our part-time employees is pregnant and often off sick. It was decided that her specific role will be integrated into an existing full-time manager's role. Can we still go through the same redundancy process with her or because she is pregnant we have to 'spare' her role and review after her maternity leave finishes??   
Under UK law, it is unfair dismissal and sex discrimination to select a woman for redundancy because she is pregnant or on maternity leave. You therefore must be able to demonstrate that any actions you take to make your pregnant employee redundant fits one of these situations:
the business closes down either temporarily or permanently;
the business moves and the employee cannot get to the new place of work;
fewer employees are required for existing work.
If you are certain you can establish one of these situations (from your description it sounds like the last one would be most appropriate) then you can use proper procedure to make the pregnant employee redundant.
However be aware that you need to demonstrate fair selection for redundancy, therefore if another job has been altered to subsume the duties of the post, you should consider whether the pregnant employ could reasonably undertake this new role. If it could be deemed a reasonable alternative, and if she is on maternity leave then it must be offered to her before anyone else.
In summary then if you can clearly demonstrate a redundancy situation, the individual has been fairly selected for redundancy and there is no suitable alternative which she can undertake then you can reasonably make her redundant following the appropriate procedures.
(Article Reviewed March 2018)