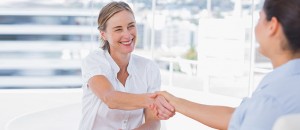 Hey, it's great news! Your business is doing well and it's now more than you can handle on your own or by calling on favours from friends and family. It's time now to dip your toes in the water of becoming an employer! One of the questions we are most often asked by small businesses in this position is "what steps do we need to take now to employ our first member of staff?"
It's not hard to do this, but it needs some preparation and planning to ensure you get the best and most suitable employee for your business. Just follow these steps and you won't go wrong.
1. Describe the new job
Write down what your new employee will be doing. Reflect on this carefully – one of the main problems we find is that new jobs are not properly thought through and in fact often the new employee finds they don't have enough to do.  Think about recurring tasks – are there enough to keep the employee busy? If so think about how many hours per week this will take. It is often better to start with a part-time employee and review it after a few months. You could even think about a casual arrangement or a zero-hours contract to start with, where you only call in the employee when you need them.
You will also need to decide on the terms and conditions you will be offering. As a minimum in the UK you will have to offer the minimum wage and 5.6 weeks paid holiday entitlement.
2. Describe the ideal person for the job
What sort of individual would be ideal for your new job? Think about the skills, experience and any qualifications they would need. This is not only now, but in the foreseeable future. For example might you need the employee to drive in future? If so then you might want to employ someone with a driving licence. A good way to structure this is to identify what attributes are essential and those which might be desirable (but not essential). Just remember when you are doing this that you must not discriminate directly or indirectly on the grounds of age, disability, gender reassignment, sexual orientation, marriage and civil partnership, pregnancy and maternity, race, religion or belief or sex which are protected characteristics in law.
There is a job description compiler here which will help you to describe the job and the person specification (n.b. small companies can ignore the competency description section).
3. Think about how to recruit the ideal person
a) This will very much depend on who you are looking for. The first place to look for your new employee is your own network! Do you know someone who would be ideal for the position? Could you approach them and see if they would be interested? Send them the job description and person specification and see what they say. If they are not interested perhaps they know someone equally suitable you could approach.
b) If the role requirements  are technically or academically based, then perhaps you could approach local university careers offices. Often at the end of the academic year there are large numbers of clever graduates looking for a job.
c) JobCentre Plus in the UK have a Small Business Recruitment Service which can help you through the recruitment process and connect you with suitable applicants who meet your specification. They can also signpost you to things like job trials which  is a way of trying out a potential employee before offering them a job. There are also various wage incentive schemes worth several thousand pounds if you employ someone who is under 24 or who is disabled. Further information and contact details here.
d) If the above steps fail to produce any suitable applicants, then you could advertise the job more widely. There is some information about how to write an effective job advert here. Where you place the advert will depend on the sort of person you need.  You should definitely steer clear of national newspapers or professional journals if you can as these are extortionately expensive, but sometimes local papers can be a good idea to reach local applicants.  However by far the most popular method of recruitment these days are the online recruitment boards such as Monster recruitment or Reed in the UK which will give you advertising exposure on their recruitment sites for 30 days or even longer for around £200. Once you have sufficient applications you should shortlist using the person specification you drew up earlier and then interview the candidates. There is an article here which will help with this.
4. Sort out the administration
Once you have offered the candidate the job and they have accepted, you have a few things you need to do:
a) Check they have a legal right to work in the UK – Government checker here.
b) A Disclosure and Barring Service check may be required if the employee will be working in certain areas e.g. with vulnerable groups or in the security field. Use an umbrella service for this – details here. Employers in Scotland can ask their employees to get a criminal records check from Disclosure Scotland, while those in Northern Ireland should go through Access NI.
c) You will need Employers Liability Insurance of at least £5 million before the new employee starts. There are significant fines if you fail to have insurance and display the certificate. Any decent insurance broker can help you with this.
d) Register as an employer with HM Revenue & Customs (HMRC) using the online tax registration service. You can also use the HMRC basic PAYE tool which allows employers with less than 9 staff to work out payroll deductions and then report payroll information online in real time. You could also use your accountant or a payroll bureau to ensure this is done and your new employee gets paid!
e) before or on their first day of employment provide them with a written statement of the main terms and conditions of their employment. This should contain:
the employer's name and the name of the employee

the date on which the employment began

the date on which the period of 'continuous employment' began (not necessary for your first employee!)

pay (or how it is calculated) and when it will be paid

agreed normal working hours and days of the week expected to work and whether these may be variable (and if so how that variation would be determined)

entitlement to holidays and holiday pay (and how this will be calculated)

the employee's job title or a brief description of their work

the employee's place(s) of work

details of disciplinary, dismissal and grievance rules and procedures

details of training entitlement provided by the employer and any part of that  which the worker is required to complete (and any required but which the employer will not bear the cost)
You should also include in the written statement, or at least make available in easily accessible documents:
terms and conditions relating to sickness and injury, and sick pay (other than statutory sick pay)
terms and conditions relating to pensions
the notice period the employee is obliged to give and entitled to receive for termination of the employment contract (and if you reserve the right to give payment in lieu, it would be sensible to say so)
how long the employment is intended to last (unless permanent)
any collective agreement which directly affects the employment (again not necessary for your first employee unless you have previously agreed any).
There are loads of free templates on the web for this – you will find examples on our website here. (You will also find there an integrated contract and staff handbook which is ideal if you are employing your first staff member).
Hang on – did he say pension arrangements!!? Yes all employers must provide a suitable pension scheme for their employees and auto-enrol them into this scheme on employment (the individual can elect to opt out again though). There are a variety of schemes which meet the necessary criteria, but a good starting point is the UK Government sponsored National Employment Savings Trust (NEST).
When you send the statement, it is a good idea to also include a note of any rules, policies or other information you may want the new employee to know about. For example any rules about their conduct, dress code, confidentiality, use of email and the internet, smoking, health & safety, flexible working etc. This can eventually be extended into a staff handbook as you grow your staffing numbers.
5. Welcome them onboard!
So the start date for your new employee is approaching and there are still a few tasks which you need to sort out:
If they need a desk, chair and computer you need to source those and any other equipment such as a phone; don't forget to set them up with an email address too.
Ensure the working conditions are appropriate, including access to a toilet. It is worth doing a quick health and safety audit of their work area just to be sure all is well. There is some advice on risk assessment from the Health & Safety Executive here.
Think about putting together an induction programme for them to help them learn the job as quickly as possible. What do they need to know, who should they meet: suppliers, key customers, what systems do they need to learn and so on. Write this down and go over it with them on their first day. Include any targets or objectives you would like to agree with them.
That's it you are now officially an employer! Be good to your staff and they will repay you many times over in making your business a great success.
(Article updated January 2020)