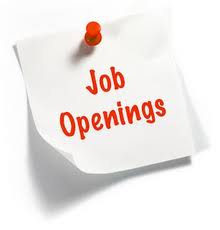 In the March 2018 UK Labour Market Statistics, the Office of National Statistics reported the unemployment levels in the UK at 1.45 million people  actively seeking work.
The upshot of this is that every job you advertise is likely to generate dozens and potentially hundreds of applications especially if you are not asking for particular skills or qualifications. What can you do to ensure you make good sound appointments without being overwhelmed by unsuitable job applicants.
Firstly you need to understand and be able to run a good recruitment process – have a read here – this  will help you to think through what you should be doing. However given the likely high number of potential applicants, there are some initial things you can do to try to ensure you only have to consider applications from the most suitable candidates:
Look internally first: do you have any staff who are temporary who might be suitable for the post, or perhaps some part-time staff who might be able to take on additional hours?
Get referrals: before you start advertising, try to speak to people you trust like current employees, friends and relatives. They may be able to recommend someone that they know well who is looking for the kind of job you have on offer. You could offer the job on an initial trial period to assess how they get on in the role.
Use your network: do any of your professional associates know of someone suitable – perhaps someone made redundant from their organisation that they can recommend
Make applicants go to your website: where they can get more details (you can do this through printing a link to it in an advert in the local press or online job board). Once there you can give a clear definition of the sort of person you are looking for, and outline any specific requirements of the post in far more detail than you could do in an advert.
Don't ask for CVs: if you do you will be inundated by hundreds of stock CVs which applicants routinely send to any job vacancy they think might be in any way suitable. Use a bespoke application form which will require the individual to do a bit of work to complete. This is a good test of their motivation to apply.
Be ruthless when shortlisting: at this stage don't waste time trawling through every word on an application – just look for the specific essential criteria you have stipulated – e.g. a particular level of experience. If you cant find this then discard the application.
Use the telephone: once you have reduced the applications to a reasonable number, consider setting up short – say 10 minute – telephone screening interviews with the applicants. Ask them all the same questions which you will design to give you some insight into their knowledge and experience for the post.
Once you have appointed, retain any other suitable applications on file so that you can use them if another suitable vacancy comes up – given the state of the current job market it is quite likely the applicants will still be looking for a job.
Hopefully by utilising some of the above tips you will be able to not only save yourself valuable time in recruiting to your post, but will also have reduced the cost of recruitment significantly too.
(Article updated March 2018)